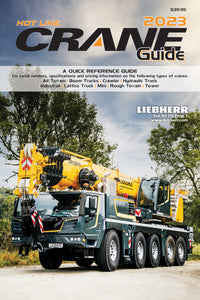 US only, please call (800) 673-4763 for other options.
Hot Line Crane Guide gives you the "BLUE BOOK ADVANTAGE" when you buy or sell cranes.
This annual guide contains information on:
All Terrain Cranes
Boom Trucks
Crawler Cranes
Hydraulic Truck Cranes
Lattice Truck Cranes
Industrial Cranes
Rough Terrain Cranes
Tower Cranes
Mini Cranes
Information found in this handy guide includes engine, horsepower and tonnage specifications, years manufactured, boom length and more on thousands of models on 130 manufacturers. Average retail prices on popular models have been compiled and listed for the user. 
The information in this print guide is included in the online version of the Hot Line Construction Equipment Guide.

If you need your guide overnight please call 800-673-4763 and ask for the Guides Division, overnight charge would be added to the cost of the guide.
Call 800-673-4763 for foreign pricing.