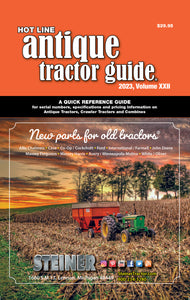 US only, please call (800) 673-4763 for other options.
Hot Line Antique Tractor Guide is a reliable source of information on antique tractor values, crawlers and combines dating up through 1984.
The Antique Tractor Guide provides hundreds of auction and sales results in the back of the book to give you the inside edge to pricing, buying and selling antique tractors. In this easy-to-use guide you will have the real world information and data you need to make an informed decision on a tractor without the guess work and bias from dealers or other so-called "experts" in the field. Take charge of your buying and selling, get the best deal and walk away knowing exactly what an antique tractor was worth in today's market.
Also included are model descriptions as well as history information on threshing manufacturers. For help to identify the correct tractor color during restorations Antique Tractor Guide includes the antique paint color history and codes.
Why the Antique Tractor Guide?
With the Antique Tractor Guide you will get real antique tractor values that show what the tractors are worth on the auction block and what you can expect in actual value. The Antique Tractor Guide is a trusted resource used for years by banks and other equipment lenders to determine the real value of equipment. By using Antique Tractor Guide you can get the best pricing information for a tractor and accurately determine the value of your investment.
The information provided in the Antique Tractor Guide includes:
Serial Numbers - correctly identify the actual year
Location of Serial Numbers - locate the serial number on the equipment timely
Specifications - years manufactured, quantity made, engine, bore and stroke, etc.
Over 106 Antique Manufacturers
Over 2376 Tractor Models- 420 Crawler Models
Auction and Retail Pricing on antique tractor values
Used Nationwide by collectors, restoration shops, repair shops, banks and other related businesses.
Compiled Alphabetically by Manufacturer, then by Model - for faster and easier ability to look up a particular model by the novice or the pro
About the Authors
The Antique Tractor Guide is produced and compiled by Heartland Communications Group, Inc. a leader in agricultural machinery guide books and publications for over 50 years. The Antique Tractor Guide started publication in 2001 when the demand for accurate, reliable pricing for antique tractors grew due to the high demand and popularity of original condition and restored antique tractors in the auction and sale-by-owner markets. All information is collected by Heartland's Antique Tractor Guide staff through its vast array of auction contacts and associations through the United States, Mexico and Canada. Information is then evaluated, compiled and edited by the Antique Tractor Guide editors who have been involved with antique tractors and auction tractor pricing for over 35 years. Our knowledgeable staff has the experience and background to make sure the Antique Tractor Guide provides you with the most up to date relevant information that you can trust year in and year out.
Why Buy from Heartland?
Heartland Communications Group, Inc. produces the leading guide book resources for many agricultural, construction and crane industries. Our line of guide books include the Antique Tractor Guide, Compact Tractor Guide, Farm Equipment Guide, Hot Line Construction Equipment Guide, Transportation Dimension Guide, Material Handling Guide and Crane Guide.
If you Buy, Sell, Evaluate or Appraise Antique Farm Equipment, then you Need the Hot Line Antique Tractor Guide.
*If you need your guide overnight please call 800-673-4763 and ask for the Guides Division, overnight charge would be added to the cost of the guide.
NOTE: Online service activation may take up to 48 hours. You will receive an e-mail once your service has been activated. Please be sure to check  your junk/spam folder if you don't see it in your inbox.
Call 800-673-4763 for foreign pricing.