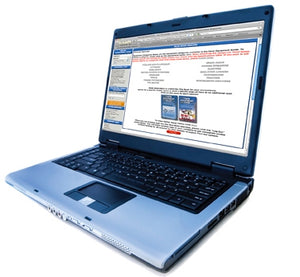 Online version of Hot Line Farm Equipment Guide, contains the same information found in the print version.  Plus the online version has Transportation Dimensions on Farm Equipment.

If you appraise, evaluate, repair, identify or own farm equipment, this blue book is your single source to thousands of prices, serial numbers and specifications on over 100 top manufacturers!
*NOTE; when selecting user ID and Password please use all lower case letters and numbers
Specifications: Know important information for accurate evaluations, repair, or model comparison.
Serial Numbers: Knowing the actual year of equipment is pertinent to making accurate evaluations and to making good buying decisions. Also shown is the serial number location on the model.
Pricing: Come "out of the dark" in regards to the value of farm equipment.
Average Auction Price: Learn the true market value of what equipment is actually selling for at auctions.
Farm Equipment Guide is a reliable source of information on tractors, crawlers, combines, corn and grain heads, forage harvesters, cotton pickers and strippers, land rollers, self propelled sprayers, balers, windrowers, spreaders, skid steer loaders, telehandlers, ATV's and utility vehicles dating from 1985 to the present.

The Hot Line Farm Equipment Guide will give you the inside edge to pricing, buying and selling farm equipment. In this easy-to-use guide you will have the real world information and data you need to make an informed decision on equipment without the guesswork and bias from dealers or other so-called "experts" in the field. Take charge of your buying and selling, get the best deal and walk away knowing exactly what your equipment is worth in today's market. Use our research and don't be fooled, use the Farm Equipment Guide and deal confidently.

Why Farm Equipment Guide?
With the Farm Equipment Guide you will get real-world pricing that shows what the equipment is worth on the auction block and what you can expect in actual value. Hot Line Farm Equipment Guide is a trusted resource used for 30 strong years by banks and other equipment lenders to determine real value of equipment. By using Farm Equipment Guide you can get the best price for your equipment and accurately determine the value of your investment.
The information provided in the Farm Equipment Guide includes:
Serial Numbers - correctly identify the actual year

Location of Serial Numbers - locate the serial number on the equipment timely
Specifications - years manufactured, quantity made, engine, bore and stroke, etc.
Over 100 top equipment Manufacturers
Over 10,000 Models
Auction and Retail Pricing on Equipment listed with model
Used Nationwide by dealers, buyers, sellers, repair shops, banks, lenders, and other related businesses.
Compiled Alphabetically by Manufacturer, then by Model - for faster and easier ability to look up a particular model by the novice or the pro
If you Buy, Sell, Evaluate or Appraise Farm Equipment, then you Need the Hot Line Farm Equipment Guide.
**Please note** PRICE LISTED FOR ONLINE PRODUCTS IS FOR A SINGLE USER IF YOUR BUSINESS HAS NEED FOR MULTIPLE USERS PLEASE CONTACT HOT LINE GUIDES DIVISION AT 1-800-673-4763 OR subs@HotLineGuides.com FOR DISCOUNTED MULTIPLE USER SUBSCRIPTION RATES
NOTE: Online service activation may take up to 48 hours. You will receive an e-mail once your service has been activated. Please be sure to check  your junk/spam folder if you don't see it in your inbox.
Call 800-673-4763 for Foreign pricing when buying print version with online.