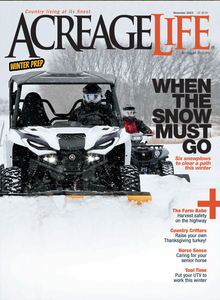 For over a decade, AcreageLife magazine has been the leading publication for those who choose the rural lifestyle. Our readers rely on AcreageLife to keep them educated and informed on the latest trends in the rural living.
At AcreageLife, "country living at its finest" is more than just a catchy slogan: It conveys the spirit of our community of readers who live the rural lifestyle. From educational monthly departments offering advice on a wide range of topics such as garden and landscaping, raising animals, sustainable living, rural safety issues, DIY projects to lifestyle related features, AcreageLife is dedicated to those who choose the rural lifestyle.
Published 12 times a year.
Newsstand Price $59.40 3rd class (75% Discount)
US only, please call (800) 673-4763 for other options.